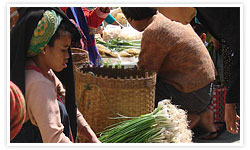 Shan State is in the east of Myanmar. It is the largest city of Myanmar. It borders China, Loas, and Thailand. The popular cities in the Shan State are Taunggyi, Muse, Lashio, and Tachileik.

Shan State is famous for ecotourism like Inle Lake, Pindaya Cave, floating villages, and golden triangle area of Thailand, Lao, Tachileik.
(A) Attractions in Shan State (South)
Around Taunggyi
1) Kakku Mwetaw (Sutaungpyae) Pagoda
Address:
25 miles sub of Taunggyi

2) ShwePhonePwint (Sutaungpyae Taung Paw) Pagoda
3) Sulamuni Lawkachanthar Pagoda
4) Yattawmu (Standing) Pagoda
5) Montawa Gu Pagoda
6) Gurdwara Sikh Temple
7) Shan State Cultural Museum & Library
Around Shwenyaung
1) Pawritha Pagoda
2) Shweyanpyay Pagoda & Monestry
3) Old Sawbwa Hawnan
Around Kalaw
1) (Hnee Paya) Mam Pagoda (Bamboo Image)
Address:
3 miles south of Kalaw
2) Kalaw Cave
Address:
South of Kalaw, on the way to Hnee Paya
Around Nyaungshwe
1) Yadana Man Aung Pagoda
2) Yan Aung Man Aung Sutaungpyae Pagoda
3) Buddha Museum (Old Haw Nan)
4) Inle Lake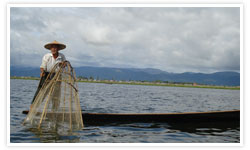 It is second largest lake in Myanmar. It was used to call "Venice of the East". It has 13.5 miles long and 7 miles wide. It is fresh water lake. The highest altitude is 3000 feet (900m).The deepest level is about 6 meters. It is far from 720km from Yangon.
Around inle lake compound, there are about 64 villages. Most are floating villages. The people from those villages are used to call "In Thar'. Most of them are gardeners, farmers, fishermen and some do hand-made goods. The transportation is only boats. The rowing styles of Local villagers are only with one leg. That rowing style is very popular and that one only can see in Shan State, in Myanmar.  
5) Faungdawoo Pagoda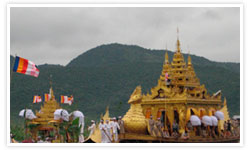 The pagoda festival is very popular. The festival holds 15 days in Thadingyut month of Myanmar Lunar Calendar (in October). The karaweik faungdaw brings Buddha images and visits 19 places around the villages of Inle Lake.
Address:
South west of Inle Lake
6) Alodaw Pauk Pagoda
Address:
East of Faungdawoo Pagoda
7) Shwe Inn Dein Pagoda
Address:
West of Faungdawoo Pagoda
8) Maing Thauk Pagoda & Tawya Kyaung (monestry)
Address:
North east of Inle Lake
9) Taung To Pagoda
Address:
South of Inle Lake
10) Hu-pin (Kaung Daing) Hot Springs
Address:
North east of Inle Lake
11) Ngahpegyaung monestry
Address:
West of Inle Lake
Between Kaung Daing and Paungdawoo
12) Floating Gardens
13) Floating Village & Markets
14) Weaving workshops
Around Pindaya
1) Pindaya Cave

There are three caves on limestone ridge. There are a lot of Buddha images inside the caves. The visitors may be amazing to see the countless pagodas, the architecture and the beauty of nature. The most ancient Buddha image is in AD 1772.

Address:
24 miles from Aungban
2) Shwe Oo Min Pagoda
The pagoda is located at entrance of southernmost pindaya cave. The height of pagoda is 15m (49ft) and was built by King Asoka and renovated by King Alaungsithu in 12th century. 

Address:
Within Pindaya Cave
3) Konlon Zedi & Konlong Monestry
4) Poktalok Lake
Address:
Near Pindaya Cave
5) Myinmati Taung & Myinmati Cave
Address:
Between Kalaw and Aungban
Other Interesting Places
1) Bomugyi Batoo Kyauktai (colonel Batoo Monument)
Address:
Aungban
2) Mobye Dam
Address:
Border with Kayah State
3) Hopong Cave
Address:
12 miles from Hopong
4) Padah-Lin Cave
Address:
31 miles North West of Pindaya and near Ywa- Ngan
(B) Attractions in Shan State (North)
Around Lashio
1) Mahamuni Pagoda

2) Pyi Lon Chan Thar and Mansu Pagoda

3) Thathana (Sasana) 2500-Year- Pagoda

4) Quan Yin Temple

5) Nannhaewon Park

6) Lashio Hot Springs
Around Hsipaw
1) Bawgyo Pagoda

2) Mahamyatmuni Pagoda

3) Old Haw (Palace) of Sawbwa

4) Waterfalls and Hot Springs

5) Thein Daw Pagoda (Five Buddha Hill)
Other Interesting Places
1) Gokteik Bridge
Address:
5 miles east of Naung Cho
Between Naung Cho and Kyaukme
(C) Attractions in Shan State (East)
Around Kengtong
1) Mahamyatmuni Pagoda

2) Naungtone Lake

3) Thittapin Taung (One Tree Mountain)

4) Lahu Ahka Sanpya village

Other Interesting Place
1) Golden Triangle
Address:
Border area of Thai, Lao and Tachilake, Myanmar
2) Mongla
Address:
Border town of China-Myanmar
3) Laukkai
Address:
Border town of China-Myanmar
(D) Ecotourism sites in Shan Stat
1) Shwe Daung W.S
It was established in 1918 and area is 125.88 square miles.
2) Taunggyi W.S
It was established in 1930 and area is 62 square miles.
3) Inle Lake N.S
It was established in 1985 and area is 248 square miles.
4) Pahsa Sanctuary
It was established in 1996 and area is 30 square miles.
5) Loimwe Sanctuary

It was established in 1996 and area is 16.54 square miles.
6) Panlaung Padalin

It was established in 1999 and area is 128.88 square miles.

(D) Important Mining & Industrial in Shan State
1) Pyinlong Nawayat Gem Mining

Address:
Nanhkan Township
2) MongHsu Gem Mining

Address:
Mong Hsu Township
3) Nanma Coal Mining
Address:
Lashio Township
4) Yadana Theingi Bawsang Mining
5) Iron Ore Mining

Address:
Hopong Township
6) Turpentine Factory
Address:
Kalaw Township