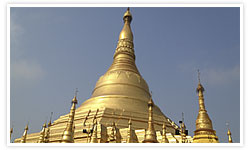 Yangon (Rangoon) is the former capital of Myanmar (Burma) and the capital of Yangon Division. It is the largest city. The area is about 300 square miles. The population has 4 million (2007). The life span of Yangon is over 100 years. Yangon is famous for Shwedagon Pagoda, ancient colonial buildings and golden pagodas.
Location
It is located in lower Myanmar (Burma).
Climate
The highest temperature is as high as from 29 to 36°C and as low as from 18 to 25°C. There is plenty of rain during May to October.
History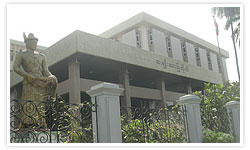 King Alaungpaya founded Yangon in AD 1755 from Mon. He renamed Yangon from Dagon (it means ends of Strife). Dagon was a small fishing village centered about Shwedagon Pagoda and was built by King Okkalapa. King Alaungpaya extended his empire like Thanlyin to Yangon to prevent from Filipe de Brito e Nicote (a) Nga Zinga, Portuguese adventurer and mercenary.
In colonies period, Yangon had transformed into the commercial and political hub of British Burma. Yangon was chosen as capital of Myanmar (Burma). The British renamed Rangoon from Yangon. Yangon has the largest number of colonial buildings, architecture, offices, churches, mosques, and temples.
At the time of colonies period, there is less people of Myanmar (Burma). There are a lot of Indian, Chinese, and some are the British people in Yangon. After independence in 1948, although the British brought back Indian, there are still left Indian in Yangon. After 1966, Myanmar government holds closed policy and many Indian and Chinese went back their origin countries. Nowadays, Yangon has lots of Myanmar (Burma) in Yangon.
Design of Yangon (Rangoon)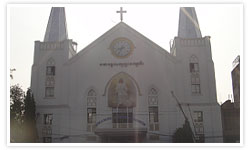 The British Engineer, Lieutenant A. Fraser constructed the town in 19th century. Based on Sule Pagoda Road, Construct 5 main roads, (Strand Road, Merchant Road, Mahabandola Road, Anawrahta Road, Bogyok Aung San Road) to the east south and North West of Hlaing River (Yangon River), and those roads are parallel to Hlaing River. Last time those roads are called in the British names and after 1989, Myanmar Government renamed into Myanmar Names. Then construct small vertical roads start from street 1 (west) to over street (100), depends on horizontal those main roads. The construction of town is very systematic and is suitable for weather.
Yangon is the port town which many commercial ships enter and many foreign cruises come.
Sightseeing of Yangon (Rangoon)
The central of the town is Sule Pagoda; the roads are face to pagoda. Myanmar is independent religious country, Immanuel Baptist Church and Jama Aasjid Mosque are allowed to construct near around Sule Pagoda. Among those, there are city hall, Mahabandola Garden, the Supreme Court and other colonial buildings.
Along the Strand Road, the visitors can start from Botahtaung Pagoda. The Strand Hotel (five star hotels) was built by the British and it is over 100 years long. The visitors can feel the taste of colonial by drinking coffee or tea. The other side of the Strand Hotel is Nan Thi Tar port. The view from the Strand Hotel is very attractive. The other side of Yangon River is Dala and the visitors can take ferry and the view from Dala is the whole panoramic of Yangon. It is the amazing view. Kheng Hock Chinese Temple is also on Strand Road.
Along the Merchant Road, Anawrahta Road, Mahabandola Road, the visitors can see the colonial buildings and architecture, many crowded food shops, clinics, medical stores, electronic shops camera shops, glass shops, china town and other religious buildings
Along the Bogyoke Road, can view St.Mary's Catholic, was built in 1899, Yangon Train Station, the cinemas, Bogyoke Market, Yangon General Hospital built by the British.
There are a lot of golden pagodas like Shwe Dagon Pagoda, Sule Pagoda, Chauk Htatgyi Pagoda and other attractions like museum, parks, lake, Yangon Zoological Garden, Golf Clubs and many other interesting places.
Attractions in Yangon (Rangoon)
Main Attractions
1) Shwedagon Pagoda
2) Sule Pagoda & Downtown Yangon
3) Chauk Htatgyi Pagoda
4) Thirimingalar Kaba Aye Pagoda
5) Maha Pasana Gula
6) National Museum
7) Souvenir and Gift Shops & Painting Glory
8) Jewelry Shops
9) Bogyoke Market
10) China Town
Pagodas
1) Shwedagon Pagoda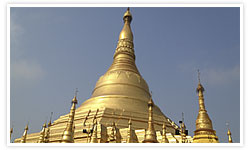 It can visible from almost anywhere in the city. The 326ft pagoda is the one of the wonders of the world. It is believed to have been built on the Singottara Hill by King Okkalapa more than 2500 years ago. It is also known in English as the Great Dagon Pagoda. It was renovated many times over the centuries by various King of Mon and Burma.
There are four entrances in Pagoda. Shwedagon Pagoda is the wonderful holy place of Buddhist's culture, history, sacred scenery and architecture with golden, jewels. The visitors can view so many crowded people, family doing praying. The amazing view will take your breath away. Your Myanmar trip will not complete if you miss out to view Shwedagon Pagoda.
There are a lot of other pagodas or interesting places in Shwedagon Pagoda as below.
a) Naung Daw Gyi Pagoda
b) Shwedagon Pagoda Museum
c) Patanmyar Myat Shin Paya
d) Barlaybar Pagoda
e) Shin ma htee Pagoda
f) Santaw twin Pagoda
g) BoBo Aung Pagoda
h) Lat pat lat Pagoda
i) Pyadarshin Pagoda and many other pagodas.
Address:
North of central Yangon, between People's Park and Kandawgyi
2) Sule Pagoda
The pagoda is 152ft high and is said to be built over 2000 years and enshrined a hair relic of Buddha. The four entrances are heading to Mahabandola Road and Sule Pagoda Road.
Address:
Centre of Yangon, opposite of Maha Bandoola Park
3) Chauk Htatgyi Pagoda
The Buddha statue is 72 meters (235 ft) long and standing height is 101 ft. It is one of the largest Buddha reclining images in Myanmar. It suffered the damage due to climate over the years although it was originally built in 1907. It was demolished in 1957 and reconstructed to the present structure in 1966.
There are many monasteries around Pagoda so the visitors can learn daily monastic life. Traditional shops also have in the compound. There are trees of Star Fruit, Guava, Bastard Sandal Wood, Mango, Sugar Apple, Jack Fruit, and Cannon ball around pagoda compound those are cannot find at Europe. 
Address:
Shwegonding Road
4) Thirimingalar Kaba Aye Pagoda
The compound is large and is intended to be peaceful and quiet. It is also known as World Peace Pagoda. The height of Zedi is 118 feet. It was built for memorial of the 1954-56 sixth Buddhist Council. There are a lot of Buddha Images on five entrances and on the central. There is pagoda festival every Tabaung month of Myanmar Lunar Year.
Address:
Kabaraye Pagoda Road
Mayangon Township
5) Maha Pasana Gula
The 2500 year anniversary of Buddha's enlightenment was held in the Great Cave called Maha Pasana Gula.There is Buddha University and Buddha Museum inside compound. Mahar Bawdi (Nyaung Tree) was planted also.
Address:
Next to Kabaraye Pagoda, Kabaraye Pagoda Road
Mayangon Township
6) Kyae Thon Pagoda
Address:
East of Shwedagon, Kyar Taw Ya Street
Bahan Township
7) Botahtaung Pagoda
It was named after the 1000 military leaders who escorted relics of Buddha brought by two Mon brothers from India to Myanmar over 2000 years ago. The pagoda stands 40 meters (132ft) and it is said to be enshrined two of hair relics.
Address:
Near Botataung Jetty, Strand Road
8) Ngahtatgyi Pagoda
It is a gorgeous seated Buddha image.
Address:
Opposite of Chauk Htat Gyi, Shwegonding Road
9) Kohtatgyi Pagoda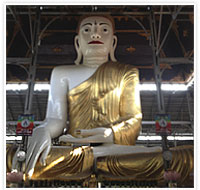 The pagoda is a huge seated Buddha image and it stands 55 ft high.
Address:
Bargayar Road
Sanchaung Township
10) Melamu Pagoda
It is named after the mother of King Okkalapa. It is famous for the giant images depicting Buddha's earlier lives.
Address:
Thudhamar Road
North Okkalapa Township
11) Maha Wizaya Zedi
The pagoda is very interesting among pagodas in Myanmar. The pagoda is 169 feet high and is situated on Dhammarakhita Hill. It was built to commemorate the first successful congregation of the Sangha of All Orders held in 1980. There are a lot of paintings about Buddha culture.
Address:
South of Shwedagon Pagoda
12) Swe Taw Myat Zedi (Buddha's Replica Tooth Relic Pagoda Yangon)
It enshrined one of the two Replica Tooth Relics which was kept together with the Buddha's Tooth relic from China in 1996.
Address:
Near International Buddhist University
Between Kaba Aye Pagoda Road and Thudhamar Street
Mayangon Township
13) Naga Cave Pagoda
Address:
Near Swedawmyat Pagoda
Mayangon Township
14) Ah Lain Nga Sint Pagoda
It is a five storey pagoda.
Address:
Lanethit Road
Insein Township
15) Kyaukkalot & Kyaikkalei Pagoda (Twin Pagoda)
Address:
No 1 Main Road
Near Wireless Pagoda
Mingalardon Township
16) Lawka Chanthar Ahbaya Larbamuni
Address:
Mindama Road
Insein Township
17) Kyaikkasan Pagoda
Address:
Yadana Road
Thingangyun Township
18) Shwe Na Pan Pagoda
Address:
Between Waizayantar Road and Laydaungkan Road
Thingangyun Township
19) Mone Kaung Pagoda
Address:
Between Moe Kaung Road and Kanbe Road
South Okkalapa Township
20) Shwe Phone Pwint Pagoda
Address:
Between Bogyoke Aung San Road and Yegyaw Road
Pazundaung Township
21) Kyaik Wine Pagoda
Address:
Kyaik Wine Pagoda Road
Mayangon Township
22) Dat Paung Su Pagoda
23) Okkalar Pagoda
Museums
1) National Museum
It is five storey new building in 1996. The first place was at General Hospital, on Bogyoke Road in 1908, the second place was at Pansodan Street in 1970. It is the main museum of Myanmar Art, history, ancient artifacts, ornaments, inscriptions, paintings, culture, Lion Throne (Thihathana Palin) and civilization of Burmese people.
Address:
Pyay Road
Between Zagawar Street and Pyidaungsuyeiktha Street
Dagon Township
2) Library & Archives Buddhism
Address:
Entrance of Shwedagon Pagoda
Dagon Township
3) Bogyoke Aung San Museum
Address:
Bogyoke Museum Street
North of Bogyoke Aung San Park
Bahan Township
4) Defense Services Museum
Address:
Corner of Shwedagon Pagoda Road and Pan Tra Street
Dagon Township
5) Myanmar Gems Museum & Gems Mart
Address:
South of Thiri Mingalar Kaba Aye Zedi
Kaba Aye Pagoda Road
Mayangone Township
6) Agricultural Museum
Address:
Myay Padaetha Garden, Kandawgyi
Bahan Township
7) Natural History Museum
Address:
Zoological Garden Compound, Kan Yeik Thar Street
Mingalartaungnyunt Township
8) Aquarium Museum
Address:
Infront of Zoological Garden, Kan Yeik Thar Street
Mingalartaungnyunt Township
9) Planetarium
Address:
South of People Park
Ahlone Road
Dagon Township
10) Drugs Elimination Museum
Address:
Hanthawaddy Road
Kyimyindaing Township
11) National Health Museum
Address:
Corner of Thirimingalar Street and Zawtika Street
Sanchaung Township
12) Myanmar Motion Picture Museum
13) Shwedagon Pagoda Museum
14) Religious Affairs Museum
15) Pyi daung su aye yeik nyein
Parks & Recreation Centers
1) Bogyoke Aung San Park
Address:
Nat Mauk Road
North Bank of Kandawgyi Lake
Bahan Township
2) Mahabandoola Garden
Address:
Central Part of City
Near Sule Pagoda
Opposite of City Hall
3) People's Park and People's Square
Address:
West of Shwedagon Pagoda
Between Pyay Road and Uwizara Road
Dagon Township
4) Resistance Park (Tatmadaw Park)
Address:
Northwest of Shwedagon Pagoda
Corner of Uwizara Road and Dahmazedi Road
Dagon Township
5) Kandawmingalar Garden
Address:
South of Shwedagon Pagoda
Corner of Uwizara Road and U Htaung Bo Road
Dagon Township
6) Myay Padaetha Garden
Address:
Nat Mauk Road
Close West of Bogyoke Aung San Park
Bahan Township
7) Yangon Zoological Garden & Amusement Park
Address:
Kanyeiktha Street (between Upper Pansodan Street and Zoological Garden Street)
East of Shwedagon Pagoda
Mingalartaungnyunt Township
8) Mingalardon Garden
Address:
Khayae Pin Road
Near Yangon Golf Course and Denfense Golf Club
Mingalardon Township
9) Hlawga Wildlife Park
Address:
Hlawga Road (West of Yangon Pyay Road at Htaukkyant)
25miles north from central Yangon
Mingalardon Township
10) The Khin Mya Garden
Address:
Between Lower Kyimyindaing Road and Kyimyindaing Kannar Road
Ahlone Township
11) Jade Garden Amusement Park
Address:
Kabar Aye Pagoda Road
Bank of Inya Lake
Yankin Township
12) Shukinthar Amusement Park
Address:
Yamonnar Road
Bank of Bago River
Dawbon Township
13) Happy World Amusement Park
Address:
South of Shwedagon Pagoda
Adjust East of Kandawmingalar Garden
Dagon Township
14) National Races Village
Address:
Thanlyin Bridge Chin Kat Street
Near Thanlyin Bridge
Thaketa Township
15) Kandawgyi Nature Park
It is a very nice view to take pictures from Kandawgyi. There are so many people doing exercises in very early mornings. It is also a view point of Shwedagon Pagoda.
Address:
Bank of Kan Taw Gyi Lake
Mingalartaungnyunt Township
16) Karaweik Palace
It was built in the form of Royal Barge with 10 Arts of Myanmar Culture from 1972 to 1975 by Myanmar Architecture, U Ngeh Hlaing and U Myat Thin. The natural scenery and enchanted view of Shwedagon Pagoda can be seen from Karaweik Palace.
Address:
Inside Kan Taw Gyi Lake
Mingalartaungnyunt Township
17) Myaing Hay Wun Park
Address:
Corner of Pyay Road and Kaba Aye Pagoda Road
8miles junction
Mayangone Township
18) Innya Lake
Address:
Pyay Road
Monuments & Memorial
1) Independence Monument
Address:
Mahabandoola Garden
In front of city hall and Sule Pagoda
Kyauktada Township
2) Matyr's Mausoleum
Address:
Corner of West Shwegontaing Road and Arzarni Street
North Entrance of Shwedagon Pagoda
Bahan Township
3) Memorial to the fallen Heroes
Address:
Northeast of Martyr's Mausoleum
Singottara Hill
Bahan Township
4) Bogyoke Aung San Bronze Statue
Address:
In front of Bogyoke Aung San Park
Natmauk Road
5) Htauk Kyant War Memorial Cemetery
Address:
No 1 Main Road
Near Htauk Kyant Junction
20 miles north of Yangon
Mingalardon Township
6) Yangon War Cemetery
Address:
Barwanor Street (between Pyay Road and Kyuntaw Road)
Near Hanthawaddy Round
Sanchaung Township
Markets
1) Bogyoke Market
2) Mingalar Market
3) Thiri Mingalar Market
4) Kyimyintdine Market
5) Theingyi Market
6) Bayintnaung Market
Other Religious Buildings
1) Kheng Hock Chinese Temple
Address:
Kanna Road
Between Sin Oh Dan Road and 18th street
2) Kung Tong Chinese Temple
Address:
Corner of Mahabandoola and Latha Road
3) St.Mary's Catholic
Address:
Bo Aung Kyaw Road (Upper Block)
4) Immanuel Baptist Church
Address:
Near Mahabandola Garden and Sule Pagoda
5) Moseah Yeshuea Synagogue
Address:
Corner of Anawrahta road and 26th street
6) Sri Kali Temple
Address:
Corner of Anawrahta road and Konzaydan Street (between of Bogyoke Market)
7) Sri Devi Temple
Address:
Corner of Anawrahta road and 51th street
8) Sri Durga
Address:
Bo Aung Kyaw Road
9) Islamic Mosques
Address:
Around Mago Street and Maharbandola Road
10) သံုးပါးတစ္ဆူ
Address:
Shwedagon Pagoda Road
Near Bogyoke Market
Libraries Book Shops
1) National Library
2) Sarpay bateman
3) Bagan Book Shop
4) Nandawon Book Shop
5) Mandalay Book Shop
6) Innwa Book Shop
Golf
1) Yangon City Golf Course
2) Denfense Golf Club
3) Danyingone Golf Course and others
Other Interesting Places
1) Myinghaywon Elephant Camp (Taikgyi)
2) Let-Khok-Kone Beach
3) Shwe Nyaung Pin Nat Kun
4) The Strand Hotel
The five star hotels is situated on Strand Road and built by the British in 1901. It is designed with precious teak post.
Attractions in Thanlyin (Syriam)
1) Kyaik-Khauk Pagoda (Thanlyin)
The pagoda is 195ft high. It is likely built by the Mon 600 to 800 years ago. It is said to enshrined two Buddha hair relic.
Address:
Kyaik Khauk Pagoda Road
3miles from southeast of Thanlyin Bridge
Thanlyin Township
2) Kyaik Hmaw Won Yele Pagoda (Kyauk Tan)
It is on a small island in Kyaik Hmaw Wan River.
Address:
8miles from southeast of Thanlyin
Kyauk Tan Township
3) Pardagyi Pagoda (Thanlyin)
Address:
Thanlyin-Kyauk Tan Road
Thanlyin Township
Attractions in Twante
1) Shwesandaw Pagoda (Twante)
The standing height is 250ft and it is a Mon built pagoda over 1000 years ago.
Address:
Southern Part of Twante
Twante Township
2) Baungdawgyoke Pagoda (Twante)
Address:
Dala-Twante Road
5miles east from Twante
Twante Township
Attractions in Kawmu
1) Danoat Pagoda (Kawmu)
Address:
Near Thakhutpin Village
13miles south from Yangon
Kawmu Township