Our Services
1) Tailor-made Tour
2) Tour Highlight
3) Visa Application/Visa on Arrival
4) Air-ticketing
5) Car Rental
6) Hotel Reservations
7) And other related tour services
Our Tailor-made Tour
There are various kinds of Tour Services as below as Myanmar Signature Travel & Tour Co. Ltd offer. Other than that there are Museum Tour, Bird Watching Tour, Festival Package Tour, Nature Adventure Tour, Golf Tour, and Conference Tour as well. You may choose which type of tour that you are interested and then you can make your tailor-made tour program as you wish.
Recreation Tour of Myanmar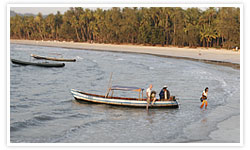 If you like to take good relax, you may go to Ngapali Beach, Kantharyar Beach, Chaung Thar Beach, and Ngwe Saung Beach.
Culture Tour of Myanmar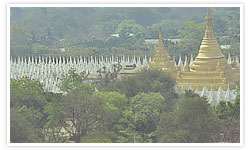 If you would like to see Myanmar Culture, the visitors may visit to Bagan, it is in Mandalay Division and it was built in 11th century to 13th century. There are a lot of over 2000 ancient pagodas; Myauk U, it is in Rakhine State. It is the ancient capital city of Myauk U Kingdom, the most powerful Rakhine (Arakanese kingdom) from 1430 to 1785. It has numerous pagodas and stupas; Waytharli, it is in Rakhine State. It is the old city and famous for kyauk taw maharmuni pagoda and Waytharli palace; and to the Myanmar Kingdom's cities of Sagaing, Innwa, Amarapura, and Mandalay.
Eco-tourism Tour of Myanmar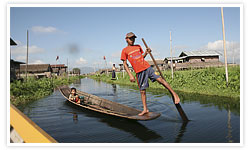 If you love to see natural beauty of the Myanmar, you may visit to Kachin State, Hkakabo Razi Mountain, the height of it is over 19000ft, you may like to see iced-over mountain system and the largest Indawgyi Lake; to Shan State, Inle Lake, the second largest lake; to Pyin Oo Lwin, National Kandawgyi Garden; to Bago Division, Moeyungyi, there are a lot of wet-land birds, you may love the bird watching there, and Seinyee teak Forest; to Mount Popa, National Garden; to Yangon, Hlawga Wildlife Park and Yangon Zoological Garden & Amusement Park.
Marine Tour of Myanmar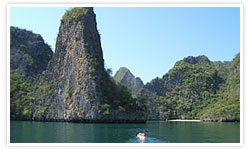 At Tanintharyi Division, Kauthaung, Myeik Islands, there are good places for sea activities like diving, and nice to see the salone villages and beautiful coral reef.
Mountain Tour of Myanmar
It you like to hike a mountain, visit to Kachin State, Hkakabo Razi Mountain; to Chin State, Witoriya Mountain.
Biking Tour of Myanmar
There are biking tour services around major cities in Myanmar.
Hot Air Balloon in Myanmar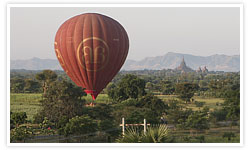 There is balloon over Bagan program if you love to see endless Bagan pagodas in Myanmar from top view.
War Memorial Tours in Myanmar
The soldiers from the British and Japan were perished in Myanmar during World War 2. The relatives or family members of those soldiers may want to visit and pray of their memorial. They may go to Yangon, Htauk Kyant War Memorial Cemetery, and Yangon War Cemetery; to Kachin State, Myitkyinar, Bahmo; to Bago Division, Pyay; to Sagaing Division, Kalay; to Rakhine State, Taung Kote.
Myanmar Cruise Ship
There are domestic cruise ships from Mandalay-Bagan, Mandalay-Bamaw, Prome-Bagan-Mandalay, Mandalay-Katha-Shwegu-Mandalay, Mandalay-Bagan-Prome, Yangon-Mandalay, Yangon-Twante-Yangon, Yangon Sunset Cruise, Delta Region Cruise (to Pathein, native villages, the Ayeyawaddy River), Ngwe Saung beach.

International cruise ships from France, Germany, and the United States of America also coming to Nan Thitar Port of Yangon, Myanmar.